A Bone to Pick
Objectives
Budd wants you to collect the Pewter Pounder from King Gurboggle at Gurboggle's Ledge.
Description
We did it!
Gnaws is down, and I have our shiney!
That's good news.
Darn shiney is cursed treasure - makes everyone who touches it a skeleton.
That's bad news.
These cursed pirates say the Gilblin King has the secret to remove the hex.
That's good news.
I can't step foot outside the reef or I'll be cursed forever.
That's bad news.
("King Gurboggle: Come and get it!")
Progress
So, <race>...
You gunna remove this curse, or what?
Completion
This is it?
How is this gunna remove - wait a minute...
Gains
Notes
Southwest to Gurboggle's Ledge.
King Gurboggle is on the southern pillar at [53.6, 58.0]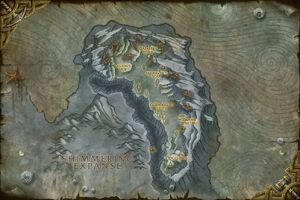 on its southwest side.
Progression
Patch changes
External links