A Shiny Reward
Objectives
Get your reward from a chest in the statue at Janeiro's Point.
Description
There is a stash of loot located in the statue on Janeiro's Point just northwest of Booty Bay in Stranglethorn Vale.
Head to the statue and claim your prize, <class>.
Rewards
Completion
Loot at last!
Notes
The treasure chest is located at Janeiro's Point[35, 63]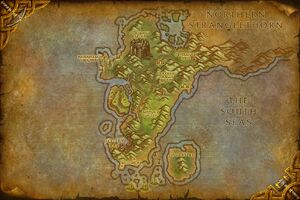 . Look in the cavity of the statue's (missing) left arm.
Progression
Optional breadcrumb:

 [85] The Troll Incursion /

 [85] The Zandalari Menace
 [85] 

Bwemba's Spirit

 [85] 

To Fort Livingston

/  [85] 

To Bambala

 [85] 

Serpents and Poison

 [85] 

Spirits Are With Us

 [85] 

Nesingwary Will Know

 [85] 

Track the Tracker

 [85] 

The Hunter's Revenge

 [85] 

Follow that Cat

 [85] 

Mauti

 [85] 

Bury Me With Me Boots...

 [85] 

Warn the Rebel Camp

/  [85] 

Warn Grom'gol

 [85] 

Defend the Rebel Camp

/  [85] 

Defend Grom'gol

 [85] 

To the Digsite

/  [85] 

To Hardwrench Hideaway

 [85] 

Voodoo Zombies

 [85] 

Bad Supplies

 [85] 

Making Contact

/  [85] 

Making Contact

 [85H] 

Booty Bay's Interests

 [85H] 

A Shiny Reward
Patch changes
External links