A Smashing Impression
The subject of this article was removed from World of Warcraft in patch 5.4.0.

This includes items and quests that can no longer be obtained or are now deprecated.
The in-game information in this article is kept purely for historical purposes.
A Smashing Impression

Start
End
Level
Type
Category
Experience
Reputation
Rewards
Repeatable
Objectives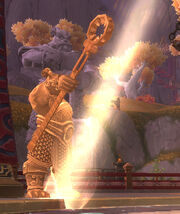 Destroy the Shao-Tien Ritual Statues.
Shao-Tien Ritual Statues destroyed
Description
Sometimes I feel sorry for these mogu... maybe ripping out the spirits of other races is just their way of coping with family issues at home? Maybe we should be more sympathetic to where all this aggression stems from?
Or we could just smash all their soul-stealing ritual objects down at the lake. That sounds more fun to me personally.
Rewards
Progress
Are you having a smashing time? I certainly am!
Completion
If they come asking who rudely crushed all their little statuettes, I'll tell them it was you.
Not that I don't appreciate your help. You're lovely.
Gains
Notes
West to Whitepetal Lake. Mogu (in the form of Shao-Tien Mindbenders and Shao-Tien Reclaimers), Paleblade Flesheaters, and banners are in abundance. The ritual statues can be found on the pavilion on the northern side of the lake. They're gold. All four must be interacted with to complete the quest, but be warned that each statue will spawn either two half-health Paleblade flesheaters, a Shao-Tien mindbender, or a reclaimer.
Progression
Patch changes
External links