Acts of Cruelty
The subject of this article was removed from World of Warcraft in patch 5.4.0.

This includes items and quests that can no longer be obtained or are now deprecated.
The in-game information in this article is kept purely for historical purposes.
Acts of Cruelty

Start
End
Level
Type
Category
Experience
Reputation
Rewards
Repeatable
Objectives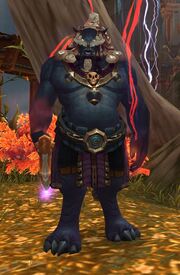 Rescue 5 Golden Lotus Guards or Mistfall Villagers.
Torture victims rescued x5
Description
I can hear the screams of the captured soldiers and villagers up on the Golden Stair. They're torturing them!
Please, please, you have to save them!
Rewards
Progress
No one deserved the agony the mogu bring upon us...
Completion
My heart rests a little easier knowing what you've done. Thank you, my dear.
Gains
Notes
Civilians or guards are being tortured by soul-renders. Players can free the pandaren simply by flying down, gain the aggro of the soul-render (which causes the mob to let go of the victim), and fly back out of range.
Progression
Patch changes
External links