Aerie Peaks
The subject of this article or section did not make it out of the alpha stages of World of Warcraft.

The in-game information in this article or section is kept purely for historical purposes.
For the town in World of Warcraft, see Aerie Peak.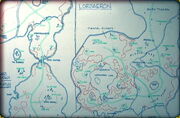 Aerie Peaks, or Aerie Peak, was the original name given to the Hinterlands region during the development of World of Warcraft.[1] The plural name has been referenced multiple times through older sources before the launch of World of Warcraft. The name Aerie Peak now refers to the capital of the Wildhammer clan rather than the entirety of the Hinterlands.[2]
Mentions
Gallery
This early concept map for World of Warcraft depicts the Aerie Peak zone north of Thoradin's Wall.
See also
References