As part of the Unified Community Platform project, your wiki will be migrated to the new platform in the next few weeks. Read more here.
Alchemy Lab
Not to be confused with Alchemy Lab (garrison).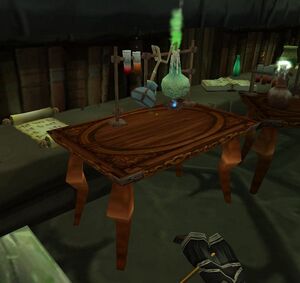 As of patch 3.0.8, Alchemy Labs are nearly relics of the past, as there are only two recipes left that still require one: the
 [Mercurial Stone] and the

 [Alchemist Stone]. This was originally used by Jewelcrafters to make

 [Mercurial Adamantite]; however, it is no longer required and is now a trinket (as of Patch 3.0.9). Alchemy labs were originally intended to be an additional component to making the especially powerful flasks more challenging to make.
Labs can be found in:
The laboratory in Undercity (with Doctor Herbert Halsey) does not qualify as an alchemical laboratory.
Patch changes
Patch 3.0.8 (2009-01-20): All flasks no longer require an alchemy lab to create.

Patch 1.8.0 (2005-10-10): There are now alchemy labs that are needed by alchemists to make flasks inside of Blackwing Lair.