Alex Afrasiabi
Valnoth

Role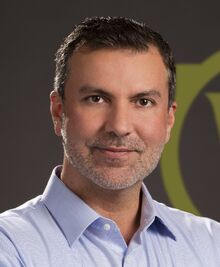 Alex Afrasiabi (alias Furor/Foror and Valnoth on the forums) is Creative Director for World of Warcraft at Blizzard Entertainment.[1] He was originally hired to the team as an Associate Quest Designer[2] on March 14, 2004.[3]
History
Alex was once leader of a famous Everquest guild named Fires of Heaven (now a World of Warcraft guild). His first character in EQ, Kalaran, a rogue, was the first level 50 in EQ.[citation needed]  Alex is supposedly still an avid player and guild leader in World of Warcraft.
As Fires of Heaven were well known for achieving many "world first" accomplishments in Everquest, the guild was asked upon the release of World of Warcraft to not be the first to kill Onyxia.[citation needed]  Blizzard felt too many people would think they had inside knowledge if they continued this achievement trend in WoW. It stands to reason this 'suggestion' is still in effect, as they have tended to wait before tackling new content too quickly. Though they progress quickly once they have started.
As a consequence of his fame, Alex has been forced to play incognito.[citation needed] 
Credits
Notes and trivia
Afrasiabi is Iranian-American.
There are many references to Afrasiabi, Furor and his character Kariel in Warcraft. "Tigule" is a reference to Jeffrey Kaplan, also known as Tigole. Afrasiabi and Kaplan were members of the guild Fires of Heaven, in both World of Warcraft and EverQuest, explaining the many references to "Tigule and Foror".

Pathstalker Kariel, Skeletal Remains of Kariel Winthalus ( 

[

Libram of Rapidity

]

),  

[

Alex's Ring of Audacity

]

,  

[

Peep's Whistle

]

,  

[

Foror's Compendium of Dragon Slaying

]

,  

[

Foror's Eyepatch

]

,  

[

Foror's Crate of Endless Resist Gear Storage

]

,  

[

Foror's Wipe Neutralizer

]

,  

[

Tigule and Foror's Strawberry Ice Cream

]

,  

[

Autographed Picture of Foror & Tigule

]

,  

[

Fras Siabi's Advertisement

]

,  Field Marshal Afrasiabi,  Fras Siabi ( [46D] 

The Great Fras Siabi

,  

[

Siabi's Premium Tobacco

]

),  Lord Afrasastrasz,  

[

Fras Siabi's Postbox Key

]

,  

[

Fras Siabi's Smoked Cologne

]

,  

[

Fras Siabi's Cigar Cutter

]

,  

[

Fras Siabi's Barely Bigger Beer

]

, Brain Freeze

The first quest Afrasiabi designed in World of Warcraft was  [15] 

Bingles' Missing Supplies

.[2][3]
Afrasiabi remembers "freaking" about having to create some of the early quests in Elwynn Forest. He felt like he had to create something amazing and decided to name the quest giver "something awesome", resulting in Falkhaan Isenstrider.[2]
References
External links