All Aboard!
Objectives
Speak to General Nazgrim aboard Hellscream's Fist.
Description
You hear all of that, <name>? There are Alliance that need killing and I need to round up a veteran crew.
You're coming with me!
We won't be returning until our assignment's complete, so round up your things and make ready.
I'll be aboard a newly commissioned gunship over Bladefist Bay.
Don't keep me waiting!
Rewards
You will receive: 98
Completion
Welcome aboard Hellscream's Fist, <name>!
This'll be her maiden voyage. Ain't she a beauty?
Notes
The gunship is very high up in the air, northeast of Bladefist Bay[38, 95.9]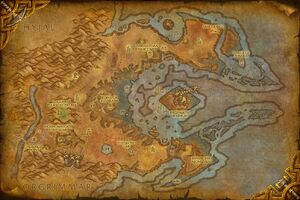 .
General Nazgrim can be found at the entrance of the captain's quarters, randomly saying one of the following lines:
Careful with that! If I see a single scratch on my new ship, it'll be your head!

Pick up the pace, men. We're about ready to set off!

I want this deck so clean I could eat off of it!

Keep polishing those cannonballs. I want to see my face in them!
Progression
Patch changes
External links