Along the Serpent's Spine
The subject of this article was removed from World of Warcraft in patch 5.4.0.

This includes items and quests that can no longer be obtained or are now deprecated.
The in-game information in this article is kept purely for historical purposes.
Objectives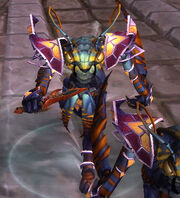 Kill 10 Krik'thik mantid on the Gate of the Setting Sun.
Krik'thik wall attackers slain x10
Description
There are mantid on top of the wall. The defenders on the ramparts are calling for help!
Rewards
Progress
What are you doing here? They need you on the wall!
Completion
The mantid forces on the wall have been thinned.
Gains
Notes
Fly up to the wall and get started killing Krik'thik locust-guards and needlers.
Progression
Patch changes
External links