Ambassador Laurent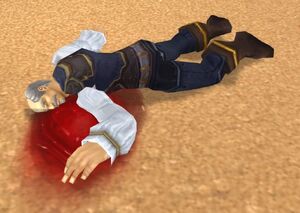 Ambassador Laurent is attending a party held by Belloc Brightblade at Schnottz's Landing in Uldum. During

 [83] Crisis Management he is killed.
Objective of
Quotes
This is quite an operation here, wouldn't you say?

 Quite an operation indeed. What do you think of our host?
I must admit, I am intrigued by this ambitious little upstart.
I'm not rushing to judgment, mind you, but I've heard some unsettling rumors.
Time will tell if his motives are just.

 I've encountered some of his underlings out in the field. They've been quite hostile.
I'm not surprised.
So many questions, I cannot ignore...
Why all these weapons for an archaeological dig? And what is being done with the unearthed relics? Under what authority is this excavation being conducted?
The answers don't seem to be forthcoming, I'll just have to find out for myself, I suppose.
During

 [83] Crisis Management
The ambassador lies dead in a pool of his own gore.
Through his rent clothing, you can make out a row of enormous, deep teethmarks.
Even stranger, the wounds appear to be cauterized, even charred in places.
Patch changes
External links