Ambrose Boltspark (tactics)
For his appearance in the Silver Covenant Pavilion, see Ambrose Boltspark.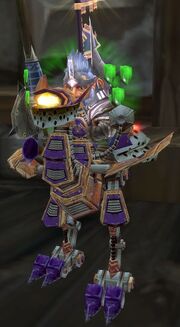 Ambrose Boltspark is a boss of the Trial of the Champion in the Crusaders' Coliseum. Like every Alliance champion, he is only encountered by Horde players.
Adventure Guide
The Lich King is relentless, his undead armies pouring forth to overwhelm his foes. To prepare would-be champions against him, Highlord Tirion Fordring presents a test of courage, endurance, and teamwork. His hardened veterans will weed out those who lack the stomach to face the ravening throngs of undead.
Abilities
Strategy
Once dismounted, he uses mage-style abilities, including a fireball and a polymorph. The fireball is interruptable.
Related Achievements
Patch changes
External links