Ammunae
Ammunae, Construct of Life, is a boss in Halls of Origination.
Background
Ammunae is one of the guardians of the Halls of Origination. Like the other constructs within the halls, Ammunae was created to protect the powerful device capable of resetting all life on Azeroth. Each of the keepers has a sphere of influence. Isiset presides over magic; Ammunae, life; Setesh, chaos; and Rajh, the sun.[2]
This section concerns content related to Battle for Azeroth.
In the early stages of the Fourth War, High Commander Kamses confirmed that Rajh and the other keepers were dead.[1] After N'Zoth was freed from its prison, and the Black Empire invaded Uldum, a Void-corrupted version of Ammunae could be briefly seen in the Old God's vision of the Halls.
Adventure Guide
Although designed to reduce Azeroth to its base elements, the reordering system inside the Halls of Origination also creates new life. To that end, the construct Ammunae regulates the natural energies coursing through the facility to ensure that life will exist on a reforged Azeroth.
Abilities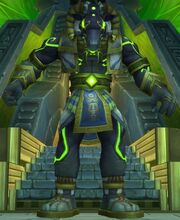 Normal Mode
It is perfectly possible to brute force this boss with normal dps.
Kill the Seedling Pods when they spawn or they will stack a self healing and haste buff.
Should a Bloodpetal Blossom spawn from a pod, use the Spore's death AoE to kill it. Do not stand in the AoE.
Heroic Mode
Ammunae will spawn a Seedling Pod once every several seconds. You need at least one - preferably ranged - DPS to be sniping those very quickly, as they apply a stacking HoT on Ammunae.
A few times during the fight Ammunae will cast Rampant Growth, causing nearby Pods to turn into a Bloodpetal Blossom add. If you ever get those to spawn during the fight, make sure you kill them fast - but not at the expense of ignoring the other Pods Ammunae will spawn.
Wither can be interrupted and dispelled, so don't worry too much about it.
Ammunae will also spawn a few Spores during the fight. Kill them and avoid the Spore Cloud they drop. You can use the cloud to kill the Bloodpetal Blossoms as well.
It is necessary to kill the Seedling Pods to prevent Ammunae from healing. Then no adds spawn at all.
Loot
Quotes
Aggro

This chamber will flourish with your life energy!
Rampant Growth

Your life, UNLEASHED!
Killing a Player
Wither away!

Waste of energy!
Death

The cycle continues...
Videos
In Hearthstone

This section contains information exclusive to Hearthstone and is considered non-canon.
Ammunae appears as one of the bosses that can be encountered in the Tombs of Terror adventure in the Saviors of Uldum expansion for Hearthstone.
Trivia
Patch changes
References
^ a b  [110 - 120] 

Glittering Scarab
External links
| Cataclysm | Battle for Azeroth |
| --- | --- |
| | |