Arauk-Nashal
For other uses, see Nashal (disambiguation).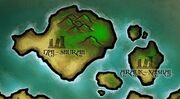 Arauk-Nashal was a location on the Broken Isles, east of Izal-Shurah. Due to its icon on the map of the Isles, it is probably some ruined part of Suramar.
Trivia
The geographic assets for Stormheim are in a folder called "araknashal", and concept art files for what is now called "Stormheim" also refers to "nashal",[1][2] hinting that the zone was renamed from the The Frozen Throne location. Some quest strings contain the name "Arauk Nashal" as well.[3]
References