Arcane Charge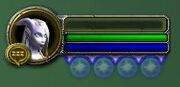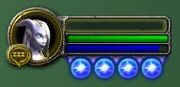 "Arcane Charges" redirects here. For the quest items of similar name, see  

[

Arcane Charge

]

and  

[

Arcane Charges

]

.
Arcane Charges are a unique Arcane mage resource displayed in the user interface beneath the player's health and mana bars. They become available to Arcane mages at level 10. Mages can have a maximum of 4 Arcane Charges at a time.
Arcane Charges interact with the mage's arcane spells:
Generated by

[

Arcane Blast

]

,

[

Arcane Missiles

]

, and

[

Arcane Explosion

]

.
Increases the damage of Arcane Blast, Arcane Missiles, Arcane Explosion, and

[

Arcane Barrage

]

by 60%.
Increases the mana cost of Arcane Blast and Arcane Explosion by 125%.
After level 34, increases the number of targets hit by Arcane Barrage for 50% damage by 1.
Arcane Charges begin to decay and disappear after 40 seconds of inactivity, losing 1 charge every 5 seconds.
Patch changes
External links
Primary resources
Secondary resources
Removed