Arcane reforger
The subject of this article was removed from World of Warcraft in patch 6.0.2.

This includes items and quests that can no longer be obtained or are now deprecated.
The in-game information in this article is kept purely for historical purposes.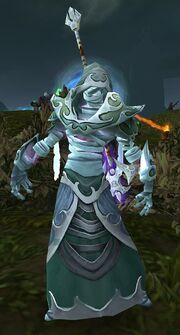 An arcane reforger was an NPC that offered players reforging, the opportunity to exchange 40 % of a secondary stat on a weapon or armor for another. They were found near the Void Storage and Transmogrification NPCs in Orgrimmar and Stormwind City. You could ask the city guards for directions before their removal.
Arcane reforgers
The Reforging system and associated NPCs have been removed from the game as of Warlords of Draenor.
Former arcane reforgers
Alliance
Horde
Neutral
Patch changes