As part of the Unified Community Platform project, your wiki will be migrated to the new platform in the next few weeks. Read more here.
Athenaeum (Blackwing Descent)
For other Athenaeum areas, see Athenaeum.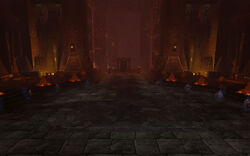 The Athenaeum is an area within Blackwing Descent. The blind dragon Atramedes and the spirits of the Dark Iron dwarf ancestors, the Dwarven Kings, reside here.