Avrilla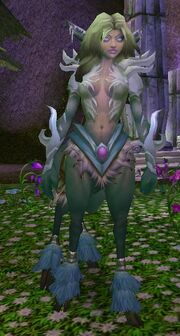 Avrilla is a forest nymph located at the Grove of Aessina in Mount Hyjal. She relocates to the Sanctuary of Malorne during the Firelands Invasion, and then to the Molten Front.
Quests
Molten Front
 [85 Daily] 

Eat Your Heart Out

 [85 Daily] 

Hide and Seek
Quotes
Initial gossip
In the nature of all things is the will to survive.
What is war, but the preservation of life? Just as the seed struggles to push out of the soil, so do we fight for our own existence.
Hello there! You're really growing on me.
Will we win this war? Only thyme will tell.
It's sweltering down here. Did someone tell them to turnip the heat?
I like you! Weed make anise pear.
Some people say I'm corny, but I think I'm rather sage.
Oh, it's you again! Do you think we'll be able to mustard up the forces we need?
Later
Do not worry. I will keep the Crimson Lasher safe with me. Until we learn more about its behavior, I'm afraid it must stay here in the Firelands.
Such a unique specimen" So many possibilities! I must devote myself harder to the study of the local flora and fauna.
While I am buried in research, it will be up to you to teach the Lasher the ways of the world.
Trivia
She was initially planned to follow the player in the Molten Front.[1]
Patch changes
References
External links