Baatun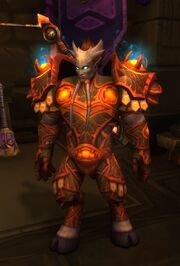 Baatun is a draenei paladin trainer located in the Vindicators' Sanctum in the Vault of Lights in the Exodar. He also directs paladins to Lord Grayson Shadowbreaker for questing.

This section concerns content related to Legion.
As a Vindicator, he joined the Silver Hand and is located in the Sanctum of Light.
Quests
Quotes
Paladin gossip
Ours is the path of purity and righteousness in the Light.
Non-paladin gossip
We are one in the Light, brother/sister, but I cannot train you.
Patch changes
See also
External links