As part of the Unified Community Platform project, your wiki will be migrated to the new platform in the next few weeks. Read more here.
Baba's Cloak of Arcanistry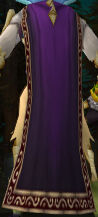 Source
This item drops from Pathaleon the Calculator, final boss of the Mechanar.
Trivia
In Bulgaria, "баба" (pronounced "bába") means Grandma. This may mean, that Baba's Cloak Of Arcanistry is actually Grandma's Cloak Of Arcanistry.
External links