Battok the Berserker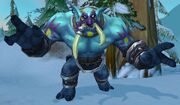 Battok the Berserker is an ice troll who leads the forces of the Frostmane tribe as they construct Frostmane Retreat. With the death of their chieftain at the hands of the troggs, the Frostmane turned to Battok, a well-respected warrior. He can be seen wildly dancing around a campfire at the center of the unfinished retreat.
Once he reaches 50% health, Battok will transform into a dire troll.
Objective of
Abilities
Battok's forces
Notes
Patch changes
External links