Beastlord Darmac
Beastlord Darmac is one of the bosses in the Blackrock Foundry, and the first boss in the Iron Assembly wing.
Adventure Guide
As a young orc, Darmac quickly rose through the ranks of the Thunderlord as a gifted trainer of beasts. Where others only saw animal instincts, he recognized intellect and drew forth untapped potential from brain and muscle and bone. When the Iron Horde demanded his service, Darmac saw no greater honor than to outfit and train the most savage beasts Draenor has to offer.
Overview
Beastlord Darmac begins the encounter fighting on foot amongst some of the fiercest beasts that the Iron Horde has tamed. Upon reaching 85% health, Beastlord Darmac leaps onto the back of the nearest Prime Beast to continue the fight. When that Beast is killed, Darmac absorbs a piece of its essence, gaining new abilities. With each additional 20% health lost, Darmac will seek out a new Beast to ride. In Mythic difficulty, Beastlord Darmac dismounts Cruelfang, Dreadwing, and Ironcrusher when they reach 40% health.
Damage Dealers
Free players from Pin Down if they are struck.
Kill Pack Beasts when Beastlord Darmac uses Call the Pack.
Healers
Players struck by Pin Down require significant healing.
While Dreadwing is active, dispel Conflagration as quickly as possible.
Dispel Inferno Breath and Superheated Shrapnel if they stack up.
Tanks
Beastlord Darmac leaps atop the nearest chained beast at 85% health remaining, and then every 20% thereafter.
Quickly gain threat on the rampaging Pack Beasts when Beastlord Darmac uses Call the Pack.
Abilities
Stage One: Ferocious Feet
Darmac begins the fight on foot.
Beastlord Darmac
  Pin Down  — Hurls a spear at an enemy, inflicting 27715 to 32210 Physical damage to enemies within 25 yds. Enemies within 3 yards of the impact suffer much more damage and are pinned down by the spear. Spears can become flame touched with Spirit of the Rylak, causing them to fling hot embers at enemies.
  Call the Pack  — Calls forth lesser beasts to assist in combat. Pack Beasts can become flame touched with Spirit of the Rylak, causing their corpses to smolder with intense flames.
Stage Two: Back of the Beast
Darmac leaps onto the back of the nearest Prime Beast.
Cruelfang
  Rend and Tear  — Leaps to a target, causing enemies within 7 yards to bleed for 26076 Physical damage every 3 sec. and increasing damage taken from Rend and Tear by 10% for 30 sec. Cruelfang then leaps back, inflicting the same bleed when landing.
  Savage Howl  — Inflicts 79476 to 87843 Physical damage to nearby enemies. Also increases attack speed of nearby allies by 75%.
Dreadwing
Ironcrusher
Faultline
Stage Three: Spiritual Successor
Darmac is empowered by slain Prime Beasts.
Strategy

Please add any available information to this section.

Loot
Related achievements
Quotes
Aggro

Come! Your meat and bones will feed my animals!
Mounting Cruelfang

Aid me!
Cruelfang's Swiftness

Rage unending... Face the fury of the wolf!
Mounting Ironcrusher

Grant me your strength!
Ironcrusher's Rage

No! I will wield your strength...
Mounting Dreadwing

Let us crush them!
Dreadwing's Flame

Your heart... dreams of fire...
Mounting Faultline (Mythic Only)

I will NOT die here! Faultline, come aid your master!
Faultline's Determination (Mythic Only)

Faultline! I will avenge you! Yes... There. Will. Be. BLOOD!
Rend and Tear

Bleed for me!
Tantrum

Feel my fury!
Superheated Shrapnel

I will roast your flesh!
Killing a player
Animality!

That one shall not die alone.

Weak.
Death

The others... will avenge... me...
Objective of
Trivia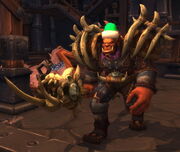 Videos
Patch changes
External links