Black Temple (TCG)
For the location, see Black Temple.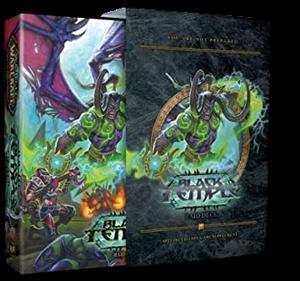 Set details
Card totals
Total Cards: 70
70 Numbered Cards

13 Commons
47 Uncommons
10 Rares
0 Epics
This set contains one 70 cards based on the Black Temple.
Numbering
The numbering is based on a priority of:
Heroes

Neutral

Abilities

Neutral

Allies

Neutral

Events

Neutral

Betrayer Event

Neutral
Each section is then ordered numerically.
External links
wowcards.info
 Black Temple Raid Deck
Standard Sets

Heroes of Azeroth Block
March of the Legion Block
Drums of War Block
Scourgewar Block
Worldbreaker Block
Aftermath Block
Timewalkers Block

Dungeon & Raid Decks
Preconstructed Decks
Box Sets
Promos
Treasures
Others