Blacksmith Verringtan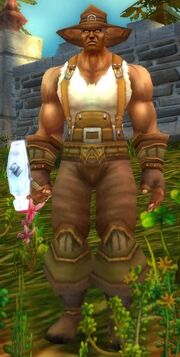 Blacksmith Avery Verringtan was formerly a human found in Hillsbrad Fields in the Hillsbrad Foothills. After the Forsaken conquered Hillsbrad Fields, Verringtan was captured and experimented on by Warden Stillwater. He has since been transformed into a plague eruptor and resides in the same area, which is now known as the Sludge Fields.[1]
High Executor Darthalia wanted Verringtan killed in order to stop the supply of weapons to the humans. However, now Johnny Awesome wants revenge for the death of Johnny's horse, Twinkles.
Abilities
Objective of

The subject of this section was removed from World of Warcraft in patch 4.0.3a but is present in Classic.
Patch changes
References
External links