As part of the Unified Community Platform project, your wiki will be migrated to the new platform in the next few weeks. Read more here.
Bleeding Sparrow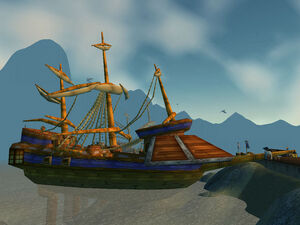 The Bleeding Sparrow is an Alliance ship that is docked in Theramore Isle.[1]
Cargo
The Bleeding Sparrow brought 20 barrels rum, 50 sacks flour, 30 bolts cotton cloth, 4 crates spices and 3 passengers to Theramore. It also has 2 crates assorted gnome tools, which are to be brought to Ratchet.[2]
References