Blindlight Murloc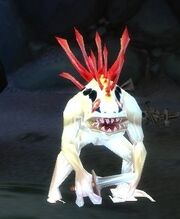 Blindlight Murlocs are hostile level 23 murlocs found in the Drowned Sacellum of Blackfathom Deeps.
Abilities
The subject of this section has been removed from World of Warcraft.
  Defensive Stance — Assumes a defensive stance that generates rage when the warrior is hit, as well as reducing rage decay while the warrior is out of combat. Lasts 3 min.
Patch changes
External links