Blizzard Arcade Collection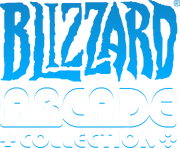 The Blizzard Arcade Collection is a digital collection of Blizzard's original hits: The Lost Vikings, Rock N Roll Racing, and Blackthorne all in their original editions with additional features. It was released when it was announced at BlizzConline as a celebration for Blizzard Entertainment's 30th anniversary.
It is available for free to The Celebration Collection owners on PC. It is also available for purchase on the Nintendo Switch, PlayStation 4, and Xbox One.
Videos
Main

Teams

Products

Games

Applications

Mobile apps

Blogs

Web series

Other