Blood Boil
For the Battle Pet, see  

[

Remains of a Blood Beast

]

.
Not to be confused with Gurtogg Bloodboil.
Blood Boil

Blood Boil

Level 56 Blood death knight ability
30 yd range
1 Rune
7.5 sec recharge
Deals (375% of attack power) Shadow damage and infects all enemies within 10 yds with Blood Plague.

Usable by
Class
Properties
Type
School
Recharge
Other information
Level learned
Related debuff

Blood Plague
Draining (47.25% of attack power) health from the target every 3 sec.
Duration: 24 seconds
Blood Boil is a level 56 Blood death Knight area of effect damage spell that infects nearby enemies with

[Blood Plague].
It deals 70% less damage in PvP.[3]
Notes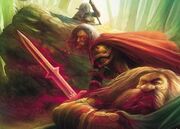 Prior to patch 3.1.0, Blood Boil did no damage to targets with no diseases on them. Hence one would first stack the target with diseases, then use

[

Pestilence

]

to spread them to nearby mobs and then use Blood Boil. Until patch 6.0.2 this was still an effective method of boosting Blood Boil's damage, however it could still be used to do some damage even to undiseased enemies. Using Blood Boil in this fashion was primarily useful when tanking or for killing swarms of low-health targets.
Tips and tactics
As a tank, Blood Boil is very useful for picking up stray mobs while your other AoE abilities are on cooldown.
Patches and hotfixes
See also
References
External links