Blood Presence
The subject of this article was removed from World of Warcraft in patch 7.0.3.

This includes items and quests that can no longer be obtained or are now deprecated.
The in-game information in this article is kept purely for historical purposes.
Blood Presence

Level 57 death knight ability
You assume the presence of Blood, increasing Stamina by 20%, and base armor by 30%, and reducing damage taken by 10%. Threat generation is significantly increased.

Activating a new Presence will cancel this one and consume any stored Runic Power.

Usable by
Class
Properties
Type
School
Cooldown
Other information
Level learned
Related buff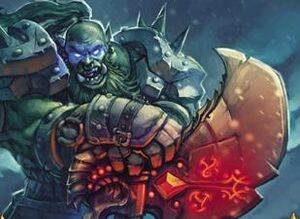 "Every victorious battle empowers our pursuit of vengeance." - Highlord Darion Mograine.
Blood Presence is the death knight tanking Presence, available at level 57. While active, the death knight receives increased stamina, a higher armor contribution from gear and decreased damage taken. It also increases threat generation to 900% damage done.
Improvements
Abilities
Glyphs
Patches and hotfixes
See also
See also
External links