Blooming Blossoms
The subject of this article was removed from World of Warcraft in patch 5.4.0.

This includes items and quests that can no longer be obtained or are now deprecated.
The in-game information in this article is kept purely for historical purposes.
Blooming Blossoms

Start
End
Level
Type
Category
Experience
Reputation
Rewards
Repeatable
Objectives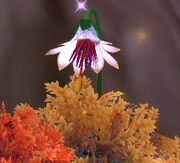 Collect 10 Eternal Blossoms.
Description
Would you do a humble merchant a favor? I've been needin' to refresh my stock of eternal blossoms. They grow in the woods nearby.
Could you help me out, perhaps?
Rewards
Progress
Was your flower-gathering bountiful?
Completion
Aha! You are quite the kind patron.
Thank you... thank you.
Gains
Notes
Up and down the stream immediately to the northwest. Characters that have the profession skill Herbalism will be able to see the blossoms on the minimap.
Progression
Patch changes
External links