Broken Isles pandaren
This article's name is unofficial.

Please note that while the content is valid, this article's name is not official.
This is because no official name is available for the subject of this article. We use a descriptive name instead.
This article should not be moved unless discussed first - Remember to follow the naming policy.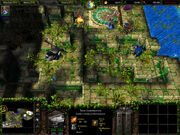 Broken Isles pandaren was a level 1 pandaren brewmaster. He gave Maiev Shadowsong a Slippers of Agility +3, when she went to the brewmaster drinking area in the Broken Isles. It was his "last call before closing".