Bromos Grummner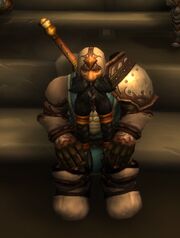 Bromos Grummner is a dwarf paladin trainer located in Anvilmar, in the dwarven starting zone of Dun Morogh. A confident paladin, Bromos stresses the importance of the dwarf and human alliance under the Knights of the Silver Hand.[1]

This section concerns content related to Legion.
Following the death of Tirion Fordring, Bromos joined the Silver Hand and is located in the Sanctum of Light.
Quotes
Non-paladin gossip
Ya may not follow the ways of the Light like a Knight of the Silver Hand, but ya can always ask us for aid.
See also
References
^    [3] 

Consecrated Rune
External links