Burning Away the Filth
The subject of this article was removed from World of Warcraft in patch 5.4.0.

This includes items and quests that can no longer be obtained or are now deprecated.
The in-game information in this article is kept purely for historical purposes.
Burning Away the Filth

Start
End
Level
Type
Category
Experience
Reputation
Rewards
Repeatable
Objectives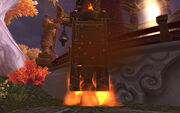 Burn 6 Shao-Tien Banners.
Shao-Tien Banners burned x10
Provided item:

 [Shado-Pan Torch]
Description
The mogu have erected their filthy banners around the lake to the west, claiming it as their own. Take this torch and show them what we think of their banners.
Rewards
Progress
Have you delivered our message to the mogu?
Completion
I'll take the smoke on the horizon to mean that they've received our message. Good.
Gains
Notes
Pick up

 [90 Daily] Rude Awakenings,

 [90 Daily] The Silent Approach, and

 [90 Daily] A Smashing Impression before heading out.
West to Whitepetal Lake. Mogu (in the form of Shao-Tien Mindbenders and Shao-Tien Reclaimers), Paleblade Flesheaters, and banners are in abundance. The ritual statue can be found on the pavilion on the northern side of the lake. It's gold.
Progression
Patch changes
External links