Cannonfire
The subject of this article was removed from World of Warcraft in patch 5.4.0.

This includes items and quests that can no longer be obtained or are now deprecated.
The in-game information in this article is kept purely for historical purposes.
Cannonfire

Start
End
Level
Type
Category
Experience
Reputation
Rewards
Repeatable
Objectives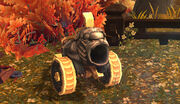 Destroy 8 Shao-Tien Cannons.
Shao-Tien Cannons destroyed x7
Provided item:

 [Wu Kao Explosive]
Description
Those mogu cannons up on the Golden Stair are bombarding us from a distance. Sure would be nice if they somehow spontaneously broke, don't you think?
Rewards
Progress
Oh my pounding head! So loud, so obnoxious, these cannons firing all through the night...
These mogu really aren't a considerate bunching.
Completion
It's a bit more quiet out now. My ringing ears appreciate your hard work.
Thanks!
Gains
Notes
Cannons are all over the the Golden Stair. Get up close to one and plant a

 [Wu Kao Explosive] within a few yards of it to destroy it. This can also be done while the player is flying on their mount.
The explosive provided inflicts damage to everything in its radius. Because of this, it is not unheard of - particularly on PvP servers - for players to gank each other using the quest item.
Progression
Patch changes
External links