As part of the Unified Community Platform project, your wiki will be migrated to the new platform in the next few weeks. Read more here.
Chamber of Observance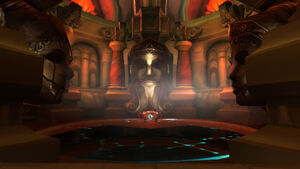 The Chamber of Observance is found at the end of the Hall of Communion. The Maiden of Vitality is here to watch over Azeroth's well-being.
Trivia
The chamber's floor lights up in time with Azeroth's heartbeat that can be heard throughout the Hall of Communion.
Patch changes