Chance the Cat
Chance the Cat
"A little shaken, but in good shape... all things considered."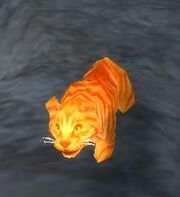 Chance the Cat is a quest item for



 [7] Grandma's Cat.
Chance is Grandma Wahl's orange tabby cat. During the quest



 [7] Grandma's Cat, Lucius the Cruel uses Chance as bait to lure the player out to be slain. The tides are turned, however, when Grandma Wahl turns out to be suffering the Worgen curse as well.
Patch changes
External links