Classic Games
Not to be confused with Blizzard Classic Games.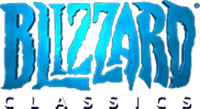 Classic Games is a division of Blizzard Entertainment, founded in 2015.[1] Its stated role is to "restore" the "classic games" of Blizzard, such as StarCraft, Warcraft III, and Diablo II.[1] It is headed by Robert Bridenbecker.[2] At the time of its formation, it consisted of around a dozen individuals.[3]
It is responsible for the development of StarCraft: Remastered—a remake of the original StarCraft.[4] As of June 2017, the team is hiring staff, and is intended to be a permanent team among Blizzard's development teams.[5] It is currently involved in maintaining the "classic servers" of Diablo II and Warcraft III, as neither of these games are integrated with the current battle.net client.[6] As of BlizzCon 2017, the team is open to remastering Warcraft: Orcs & Humans and Warcraft II.[7] At BlizzCon 2018, the development of Warcraft III: Reforged was revealed.[8]
Known staff
Works
Trivia
Members of the team originally joked that they should be titled "Team 0."[9]
References
Main

Teams

Products

Games

Applications

Mobile apps

Blogs

Web series

Other