Clearing Out before Cleaning Up
Objectives
Kill 8 Crimsonwing Wasp.
Description
Here's the situation.
We need to get this salvage operation moving ASAP but the ship went down right in the middle of the wasp nests.
The ugly bugs are all over the place and I can't call my team in here to start work until their taken care of.
Go kill as many of 'em as you can and I'll cut you in on some of the haul.
Rewards
Progress
I still see a mess of wasps down there.
We need to clear those wasps out before I can get the salvage operation started.
Completion
That's how ye do it! As soon as my crew gets here, we can start work.
Here's your pay. Thanks for doing the job.
Gains
Notes
Pick up

 [97] Getting the Crew Back Together before heading out.
Head downhill and start patching up injured crewmen and killing wasps. At [59.6, 81.3]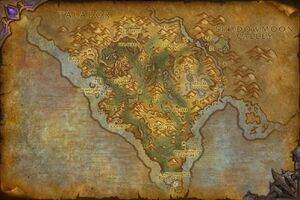 below deck in the forward part of the hull on the west side of the road, find the Spray-O-Matic 5000 XT.
Progression
 [97] 

Pinchwhistle Gearworks

(optional breadcrumb)
Complete all of:
 [97] 

The Mother Lode

Complete both:

 [97] 

Clearing Out before Cleaning Up

 [97] 

Follow that Hotrod!

Complete all of:
Complete all of:
 [97] 

Flame On

 [96] 

Kimzee Pinchwhistle
Patch changes
External links