Competing Magic (Horde)
Quest starters
Objectives
Kill Arcweaver Jor'guva.
Description
My scouts have spotted a dangerous Zandalari just this side of Za'Tual. I need someone capable to see him dispatched. Are you up to the task?
Rewards
You will receive:

 [Sunreaver Bounty] and 24

72

5

Progress
Is it done?
Completion
You're dependable, <name>. I like that.
Gains
Notes
The least painful way to get to Arcweaver Jor'guva's position from the ship is to cut through Ihgaluk Crag with the

 [90] Skin of the Saurok buff. Jor'guva is situated at [44.0, 69.0]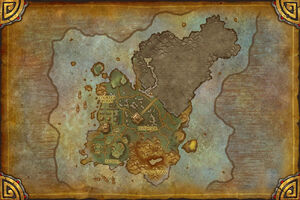 immediately northwest of Ihgaluk Crag, between the crag, Za'Tual, and the Diremoor. See his article for abilities and tactics.
Progression
Stage 2: Assaulting the Zandalari fortifications

Three hubs including Stage 1 areas (11 quests) plus one Stage 1 boss quest

Diremoor
Stage 4: Breaking into Stormsea Landing
Five quests from Stages 1/2 (+one Stage 1 boss), then three quests from one Stage 3 hub, then two Stage 4 quests
 [90 Daily] 

Maximum Capacitor

/  [90 Daily] 

Save Our Scouts!

 [90 Daily] 

Forge Ahead!
Stage 5: The Final Gate
All quests listed in Stage 4, then one of:
Patch changes
External links