Concerned Citizen (Dalaran)
Not to be confused with Concerned Citizen or Concerned Citizen (Boralus).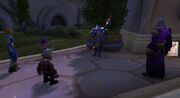 Concerned Citizens are, as their name implies, concerned Dalaran Citizens after Argus appeared in the skies. They are found regrouped around the Kirin Tor Guardians, trying to get more information about the current situation, and sometimes around Validated Doomsayers as well. Others of them are at the Bank of Dalaran, trying to get back their money in the panic.
Quotes
I'm hoping for some answers.
I keep coming back hoping for an update, but the answer is always the same.
I'm trying to remain positive, but I really don't know what to expect.
We're just looking for answers.
I haven't heard anything I didn't already know, <name>. What about you?
What does it mean? I've never seen anything like this before.
What if something attacks the city? What are we supposed to do then?
I need to know what's happening.
Patch changes
See also
External links