Cranegnasher
Cranegnasher is a tiger stealthed on a rise overlooking a dead Fishgorged Crane. Inspecting the crane pops up some gossip text:
It appears that this fishgorged crane suffered a violent death.
There are bites and claw marks all over its body and most of its viscera have been consumed.
This must be a favorite meal of something ravenous.
This clue in mind, head south to the beach and kite another Fishgorged Crane to the location of the dead one, and Cranegnasher will appear out of the shadows.
Abilities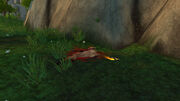 Notable loot
To check whether Cranegnasher has been looted today, copy and paste this command into the chat window:
/run print(IsQuestFlaggedCompleted(32967))

If a "true" appears in the chat window, Cranegnasher has been looted today; "false" indicates the opposite.
Achievements
Patch changes
External links