Crippling Poison (item)
The subject of this article was removed from World of Warcraft in patch 5.0.4.

This includes items and quests that can no longer be obtained or are now deprecated.
The in-game information in this article is kept purely for historical purposes.

Crippling Poison is a rogue poison, available for 70

. Every time the rogue hits with the poisoned weapon, there is a 70% chance of the victim being slowed for 12 seconds.
Source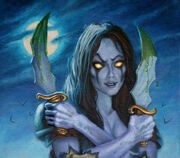 Crippling Poison is sold by poison vendors.
Improvements
Major Glyph
Use: Permanently teaches you this glyph.

Increases the chance to apply Crippling Poison to your target by an additional 20%.
Classes: Rogue
Requires Level 25
Notes
Has a PvP duration of 8 seconds.
Useful in PvP and instances to slow runners. Using this in your offhand and

[

Shiv

]

makes this very reliable.
Only affects movement speed, does not affect attack speed.
Crippling Poison, Shiv, and

[

Deadly Throw

]

combined allow a form of kiting.
Patch changes
External links