Crithto (dog)
For the former Community Manager of the same name, see Crithto.
Crithto is a neutral level 111 elite pug that can be found continuously running inside the Stormwind Keep gardens, in the human capital of Stormwind City. Sometimes he will leave the keep, reaching the Trade District, Cathedral Square and the Dwarven District, before returning to the Keep.
Be cautious when meeting this cute little pug, always carry with you a treat and never ever insult his Fez!
The respawn timer is around 2-3 minutes, and he has 3-4 different looks (bow/fez/bone/pirate hat)
Drops
Trivia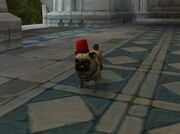 He is named after Crithto, a former Community Manager who used a

 [Perky Pug] as his avatar on the official forums.
Patch changes
See also
External links