Critical Condition
Objectives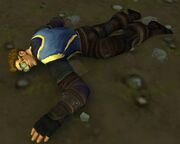 Revive 6 Wounded Pilots in Paw'don Glade. You can also use healing spells or bandages to revive them.
Description
We may have won the first battle, but a critical task still remains.
Dozens of Skyfire pilots were shot down during the initial aerial battle.
Without medical aid, their condition will deteriorate over time, until they finally perish. We are their only hope for survival.
Go into the orchard and revive as many pilots as you can find.
We will leave no one behind.
Rewards
Progress
We will remember all the brave Alliance soldiers who fell today. Though they can no longer continue, we carry the fight onward.
Completion
Good work, <name>. Those soldiers will live and fight another day because of your actions.
Gains
Notes
Pick up

 [86] Pillaging Peons and

 [86] Priorities! before heading out.
While Mishka does not provide a healing item this time, simply clicking on the injured units will heal them.
Head southwest to the Paw'don Glade and get started killing, looting, and collecting.
Pilots start out as "Wounded", downgrade to "Terribly Wounded", then to "Critically Wounded" as time passes. Move quickly!
Progression
Patch changes
External links