Cyrukh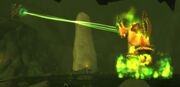 Cyrukh is an elemental lord[1] that has been empowered by Gul'dan and the Cipher of Damnation, driving it insane. Gul'dan intends to use Cyrukh to sever the link between the elements and Draenor, something that his main timeline counterpart succeeded in.
Abilities
Quotes
Intro

Gul'dan yells: Cyrukh! You serve no shaman now! Sever your link to them. Ravage this land!

During fight
Death of Cyrukh

Gul'dan yells: Impossible! This means nothing. One way or another, this world will burn!
Objective of
See also
Patch changes
References
^  [100] 

The Cipher of Damnation
External links