Dark Ranger Marrah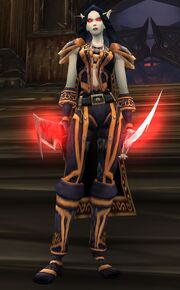 Dark Ranger Marrah is a dark ranger fighting against the vrykul in Northrend, located in the Utgarde Keep in Howling Fjord.
She appears only for Horde groups, and runs up to the group inside the instance after the players enter and start moving towards the mobs for the first pull.
She later attended a meeting between Dark Ranger Lyana, Sylvanas Windrunner, and a Horde champion as they discussed a mission to track down Varok Saurfang.[1]
Locations
Quests
 [71D] 

Ingvar Must Die

 [71D] 

Disarmament

 [71D] 

A Score to Settle
Patch changes
References
^  [120] 

The High Overlord
External links