Deep Freeze
The subject of this article was removed from World of Warcraft in patch 7.0.3.

This includes items and quests that can no longer be obtained or are now deprecated.
The in-game information in this article is kept purely for historical purposes.
For the Pet Battle ability, see

[

Deep Freeze

]

.
Deep Freeze

Deep Freeze

Level 66 Frost mage ability
35 yd range
2% of base mana
30 sec cooldown
Stuns the target for 5 sec. Only usable on Frozen targets. Damage caused may interrupt the effect.

Usable by
Class
Mage
Properties
School
Frost
Cooldown
30 seconds
Other information
Level learned
66
Glyphs
 

[

Glyph of Deep Freeze

]

Improvements

[

Fingers of Frost

]

Related debuff

Deep Freeze
Stunned and Frozen. This effect will break if the target takes any damage.
Duration: 5 seconds
Deep Freeze is a level 66 Frost mage ability. It stuns a target for 4 seconds, and causes the target to be considered Frozen for the duration of its stun, turning it into yet another tool for mages to perform

[Shatter] combos with. Deep Freeze can only be used on Frozen targets, although the Frost passive

[Fingers of Frost] provides additional opportunities.
Improvements
Major Glyph
Your Deep Freeze spell is no longer on the global cooldown, but its duration is reduced by 1 sec.
Requires Level 25
Tips and tactics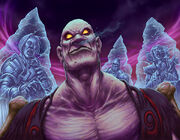 Patches and hotfixes
Now deals frost damage to permanently stun immune targets, with 1469 to 1741 base damage and a spell power coefficient of approximately 7.5/3.5 or 214.3%.

See also
External links