As part of the Unified Community Platform project, your wiki will be migrated to the new platform in the next few weeks. Read more here.
Deep Mine Rescue
Deep Mine Rescue

Start
End
Level
Category
Experience
Reputation
Rewards

35
Objectives
Escort Dumass to safety!
Description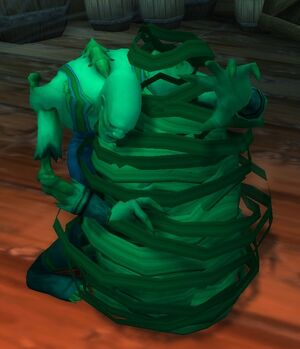 <You can hear Dumass speaking through the webbing.>
HI! SPIDERS EVERYWHERE! THE CAPTAIN SENT ME TO SAVE THE WORLD AND CAPTURE HUMANS! WHAT IS THIS PLACE ANYWAY? IT'S SO HOT! I...
<Dumass goes on and on about his situation.>
Perhaps you should cut him free and get him back to safety. Or you can just leave him here, though it's your fault that he's stuck in this mine.
Rewards
You will receive: 35

Completion
Have you ever heard the saying "survival of the fittest?" What you're doing conflicts with natural law, buddy! This idiot should have died in the mines. There's no telling what kind of harm he'll cause to himself or another person now that you've saved him from his inevitable demise.
And you know who's[sic] fault that'll be, right?
Notes
Upon accepting:
Dumass says: THANKS! HI! LET'S ROUND UP SOME HUMANS FOR THE CAPTAIN!

Escort Dumass out of the mine safely. Keep Dumass away from webbed humans.
Escorting Dumass out of the mine is easier said than done when he attacks every webbed human that he comes close to. Kill the ones that he manage to set free.
When back at Captain Keyton:
Dumass says: YAY! CAPTAIN I AM BACK! HOORAY!
Captain Keyton says: Wow, yea, that's great. I'm SO HAPPY to see that <NAME> helped you out of the mine, postponing your tragic and inevitable death. Now why don't you scurry along now. I hear that Tarren Mill is looking for Forsaken just like you, Dumass.
Dumass says: TARREN MILL! OK! IS THAT IN THE BARRENS! I'M ON MY WAY! THANKS!
Progression
Introduction and Azurelode Mine
Optional breadcrumbs:

 [20] Empire of Dirt or

 [20] Warchief's Command: Hillsbrad Foothills!
Sludge Fields
Ruins of Southshore
 [22] 

Studies in Lethality

&  [22] 

Green Living

&  [22] 

Helcular's Rod Giveth...

&  [22] 

Helcular's Command

Side quest:  [22] 

Angry Scrubbing Bubbles

,  [22G2] 

Trail of Filth
Purgation Isle
Tarren Mill
Alterac Mountains
Patch changes
External links