Defias Brotherhood Vest
The Defias Brotherhood is determined to wreck havoc upon, and ultimately destroy the House of Nobles in Stormwind City.[1]
The Defias Brotherhood Vest is a leather chest that provides a good bonus to stamina and agility.
Source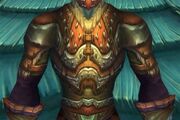 This item drops from Glubtok in the Deadmines on heroic mode.
Patch changes
See also
References
External links