Dextrous Izissha (quest)
Objectives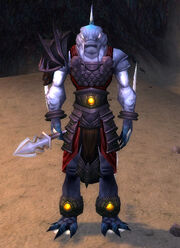 Defeat Dextrous Izissha.
Description
Jinyu normally avoid our order, but every few years, we find one that subscribes to the way of the Crane. One such jinyu is Dextrous Izissha.
Izissha is your next challenger. He waits for you on the island's southwestern shore.
(Dextrous Izissha: "A surprisingly strong fighter, Izissha tens to keep to himself.")
Rewards
Progress
Keep it up, <name>.
Completion
Excellent work, <name>! You continue to gain favor in the eyes of Chi-Ji.
Your next battle will be one to remember. You will not be fighting a trainee. Instead, you will face one of your trainers.
<Thelonius shoots a glance over toward Kuo-Na and Yan Quillpaw.>
Gains
Notes
Izissha is on the southwest side of the island, just west of Dome Balrissa, on a secluded little beach. Speak with him:
You will not find many jinyu hear in the Cradle of Chi-Ji. In fact, I may be the only one.
In general, my people shun Chi-Ji and his teachings. The crane dines on carp, after all.
 Let's fight!
Dextrous Izissha says: Your winning streak ends here, <name>. Today, you fall by my spear.
Izissha is a level 90 jinyu with 787,000 health and the following abilities:
Fluid Like Water Melee range — Strikes target enemy, inflicting 120% weapon damage. Instant. Hits for ~11,000 Physical.
Still Waters Run Deep — Healing every 1 sec for 3 sec. Channeled. Heals for 4100 Nature per second.
Finish him off:
Dextrous Izissha says: My father forsaw this day in the waters. He told me that I would be defeated, but I refused to believe it.
Another letter comes some time after completing the quest, again from Fat Long-Fat:
Farewell
Greetings, <name>.
This is Fat Long-Fat again. We fought atop Angkhal Pavilion. I am writing to deliver some advice.
Do not give up your training. I have spoken with Thelonius, and he will do his best to make sure you are adequately challenged. We may need to call on you in the future, and in that eventuality, you must be ready.
I must disappear for a while. I will be in touch in the future.
Long-Fat
Progression
Patch changes
External links