Draconic Vanguard (Horde)
Objectives
Slay Minyoth, Whelptamer Akumi, Terromath the Seared, and Tugnar Goremaw.
Description
The Blackrock orcs don't come alone. You've already seen that they've got the Firegut ogres and Smolderthorn trolls on their side. Unfortunately for us, they're also teamed up with the black dragonflight.
The orcs and dragons have already sent some of their champions to stand guard at rally points, which are marked by a dragon skull on a pike. You and I are going to find these rally points and take out this vanguard before the battle starts. Ready?
Progress
Come on, <name>, there's still more of them left. Our job isn't done.
Completion
Your kill count is adding up, <name>. We're chipping away at them.
And we are going to win.
Notes
Pick up

 [51] Blood Tour and

 [51] A Deal With a Dragon before heading out. Accepting the first of these three quests will put Ariok in the player's party. Accept the rest of them before leaving Eitrigg. Keep in mind that Ariok will only attack a mob if the mob hits you (not your hunter pet or warlock minion). First, exit camp and head southeast, then northeast, following the mountains. Kill Terromath, then circle around Dreadmaul Rock clockwise. All four of the targets are level 51.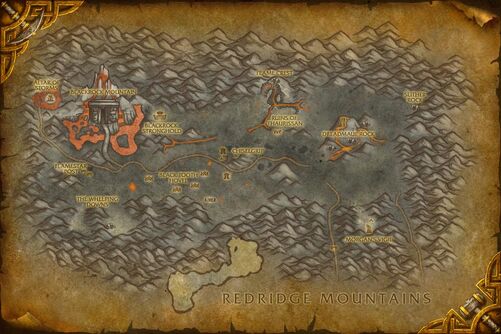 Complete all three quests and Eitrigg will radio in with

 [51] Placing the Pawns.
Progression
Optional breadcrumbs:

 [50] Mouton Flamestar or

 [50] Hero's Call: Burning Steppes! or

 [50] Warchief's Command: Burning Steppes!
Optional breadcrumb to Swamp of Sorrows:

 [52] The Bogpaddle Bullet
Patch changes
External links